Explosion Protection
Our Products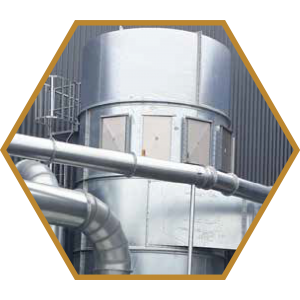 APPLICATIONS
When an explosion occurs outdoors, the explosion vent opens fully and relieves the explosion pressure and flame in the surrounding environment. This can cause the explosion or fire to spread and affect buildings, vehicles or personnel.
In order to avoid this risk, we designed the VIGISPACE to guide the pressure and flame discharge and avoid collateral damages. In fact, the VIGISPACE will limit the opening angle of the explosion vent and guide the pressure, flame and heat relief up to upwards.
Advantage: By reducing the dimension of the hazardous surface, the VIGISPACE helps to reduce the safety zone to a minimum and increases the useful space of your installations, while ensuring maximum protection against explosions.
The VIGISPACE must be used with VIGILEX VL or VD.

EU Certificate : INERIS 22ATEX0004X
Production quality assurance notification : INERIS 08ATEXQ406